Creating a new localization
When you create a new localization, you specify which pages to localize from the global site. You can create a new localization here.

Note: Only the languages that are enabled on both global site and local site will synchronize. For example, if French and English are enabled for the global and local sites, and German is only enabled for the local site, then French and English content will synchronize to the local site. The German content will not synchronize.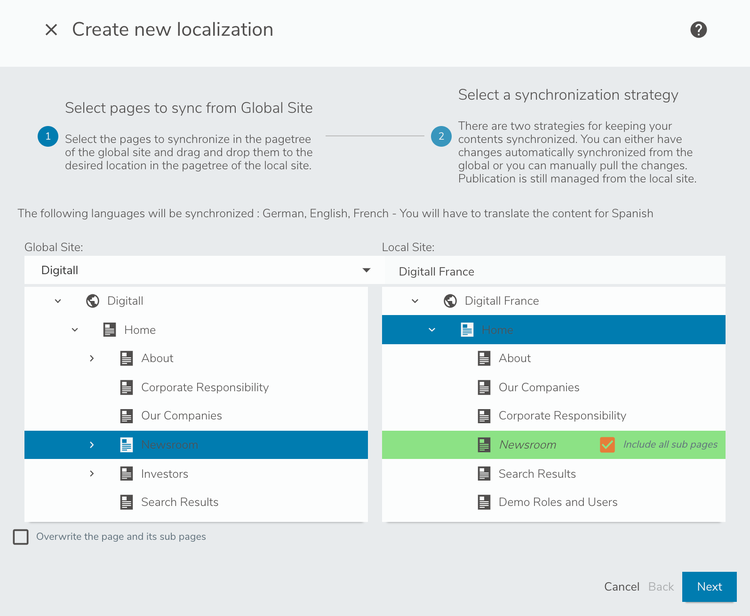 To create a new localization:
In Jahia, in the left panel, select

Edit Mode

>

Settings

to open the Site Settings page. Then, select

Local Site Manager

.
On the Local Site Manager page, click

Create localization

.
On the Create New Localization page, select the pages that you want to synchronize from the global site to your local site:

In

Pages

, select the site that you want to use as your global site from the drop-down list.
To overwrite existing pages on the local site during synchronization, select the

Overwrite the page and its subpages

checkbox.
Drag and drop the top-level page that you want to localize from

Pages

to

Local Site

.
If the page contains subpages, select or clear the

Include all subpages

checkbox to include or exclude subpages on the local site.
Click

Next

.

Next, select one of the following synchronization methods.

Automatically
Automatically push changes from the global site to the local site
Manually
Manually pull changes from the global site to the local site.
Note: With both synchronization methods, the local site administrator is responsible for publishing changes.

Click Create.
The new localization displays on the Local Site Manager dashboard.
You have created a new localization.