Viewing local pages in the Local Site Manager dashboard
You can view the localized pages on a local site in Site Settings>Local Site Manager. Localized pages are grouped into sections that contain a parent page and subpages.

Select a section to view further information about the pages in the section.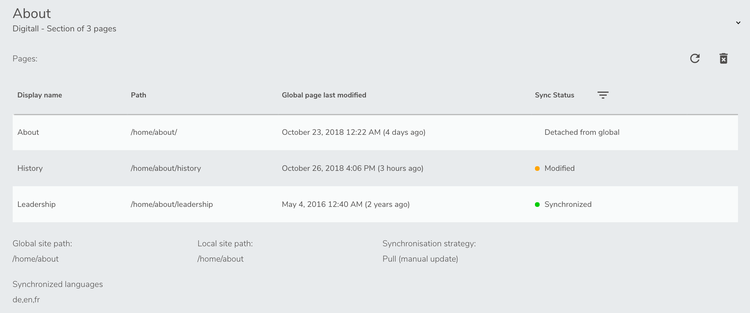 For each section, you can sort the localized pages by clicking on any of the following column names:
Display name
The name of the page
Path
The relative path to the parent of the section for the local page
Global page last modified
The last time the page was saved on the global site
Sync status
The synchronization status of the local page. The status can be Modified, Modified - Contains local changes, Synchronized or Synchronized - Contains local changes. You can filter the status by clicking on the status icon beside

Sync Status

and selecting or clearing the

Modified

or

Synchronized

check boxes.


Note:

The

Modified

check box displays only when the section contains modified pages.
The following information also displays at the bottom of the section:
Global site path
The relative path of the global parent page for the section
Local site path
The relative path of the local parent page for the section
Synchronization method
The synchronization method defined for the pages, either pull or push
Languages
The languages that are enabled for the global site and that are available for synchronization to the local site
Reviewing changes in local page from the LSM Dashboard

From the LSM Dashboard, you can synchronize changes for pages that specify the manual synchronization method and open a local page for editing.
Then, review the changes.