Getting Started with Jahia Tutorials
About Jahia Tutorials
Welcome to Jahia!
Whether you are in our free cloud trial, or working in a system you have deployed, there are a few things you'll need to get started:
Access to a deployed Jahia system, in your own environment or on our Cloud trial system.
User id and password with permissions to edit content and personalization.
At least one template set and some images, we provide these with our demo installer as well as in our free cloud trial environment.
Ready to begin?
Navigate to the URL of your Jahia system. Click Login in the * upper right corner and enter your user id and password as provided in the trial email. link to (trouble logining in?)
After a successful login, In the upper right hand corner click your user and select Page Composer.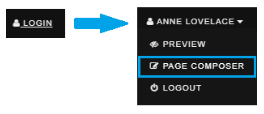 Note: The Cloud trial system has been pre-populated with a tutorial website project. When you click the link from your trial email, you will see a page load. When you access page composer you will land on the dashboard to choose your project.
Explore the Dashboard
Welcome to your Dashboard page, this page provides you with options to get you started with projects, modules and documentation
Projects
Modules & Developer resources
The Dashboard has two sections dedicated to developers and administrator users. If your system has custom modules already deployed, you will see them in the Modules section. To create a module click the </>Studio button in the Developer resources section.

The Jahia Cloud Trial system has multiple ways for you to explore. Click on the orange hotspots to learn more about highlighted functions, explore independently with tutorials and sample templates, or follow a guided tutorial.
To follow the guided tutorial for a website project:
From the first screen choose a path and follow the steps, click the orange indicators for instructions and mandatory fields to be completed.

The documentation section of the dashboard has a number of tutorials. We recommend the following sequence to get an understanding of how to create pages, work with content, apply personalization and use profile analytics in Jahia.
Adding a new page
Adding personalization
Profile Data & Analytics
StackConnect Recipes
To be able to perform the activities in the tutorials you will need a project with a template and some content, the trial system provides you with some pre-installed content. To access the pre-installed content:
From the Create your project pane you will need to configure your project by:

Choosing a template for your site
Setting the default language
Choosing the modules to be deployed.
Configuring your project
Website templates control the look and feel of your site, setting predefined page layouts, colors,fonts and more to help you standardize your content presentation. The tutorials are written for the Jahia Base Demo Templates which are very simple, you can choose any template set you have available, but components available for use will vary.
In the Create your project pane, configure the template, default language and modules to be deployed.
Scroll down to choose the default language for your project. This is the language that most content will be contributed in during this stage of development, additional languages can be added on the whole project, specific pages or contents. Click to select a language.


Choose modules to be deployed for your project. Modules are a powerful concept in Jahia, a single module can add components for use with your template, extend the functionality of the Jahia interface, or create a complete application. If you are using the templates provided by the Cloud trial, you will only need to add one module, jExperience for use in the personalization and profile analytics tutorials. Click the > to add jExperience to your project.


Once all selections are made, click Next. A summary of your choices will appear.



You can modify this at any time by accessing Administration>Server>Projects
Click Save.