Managing groups
About global groups
Groups can be created or defined at the server level, meaning that they are shared between all of your projects, or they can be specific to a site, meaning they are not available in other projects. This topic shows how to administer global groups. For information on site group administration, see Managing site groups.
You manage global groups from Administration>Server>Users and Roles>Groups.
Creating a group
You can create a group to organize your users.
To create a group:
Click on Create new group and enter a name in the Group name field.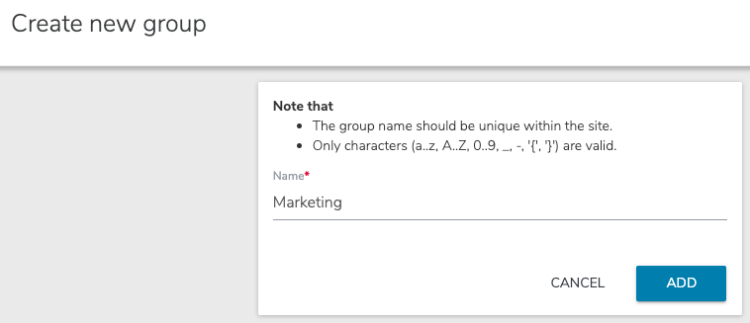 Once the group has been successfully created, the updated list of groups displays.


When a group is created, it is initially empty.
Adding and removing members
After creating a group, add users to the group. If necessary, remove users later as needed.
To add or remove group members:
In the list of groups, click on the group that you want to edit or you can select the group and click Edit

.
To add members to the group, click Edit Membership.



A list of all users on the platform displays in alphabetical order. If the platform contains a large number of users, you can enter a name or part of a name in the search field at the top of the window.
To add users to the group, select the checkbox next to their names. To remove existing group members, clear the box.


Click Save.
You can also add existing groups by selecting the Groups tab. You also use checkboxes to select the groups that you want to add. To remove a member from a group, select the user in the list and click Remove.


Click Save to apply your changes.
Removing a group
You can remove groups that you no longer need.
To remove a group:
Go to the list of groups.
Click Remove next to the group you wish to remove.
Members of the group (users or groups) are not deleted from the system.
Duplicating a group
If you need to define a new group with similar members to those in another group, you can duplicate an existing group.
To duplicate a group:
Click Copy next to the group name.
Enter a name for the new group.
Now all you need to do is add or remove members from the new group, without having to go through the entire group configuration process again.
Using groups with roles
Edit Roles and Live Roles can be assigned to users or groups in Content Editor on a specific node (page, content item, and more). The permissions associated with the role are then conferred to the users and the members of the designated groups. For more information, see Specifying advanced options in Content Editor.
External group providers
Jahia allows a connection between a specific website and an external group provider (e.g. LDAP). When this is the case, you will find all the users and groups from this external provider into your Groups entry in the site administration.