You access the license page from Administration>Server>About Jahia>License. Here you can see your current license information and upload a new license file. You can also access the Jahia license terms, as well as the third party licenses.
License information
The license table contains all the terms included in your license file. Some terms have a limit defined in the Maximum column and the Current column corresponds to your current usage. In the following example, the license is only valid for 30 days, and it has been used for 3 days.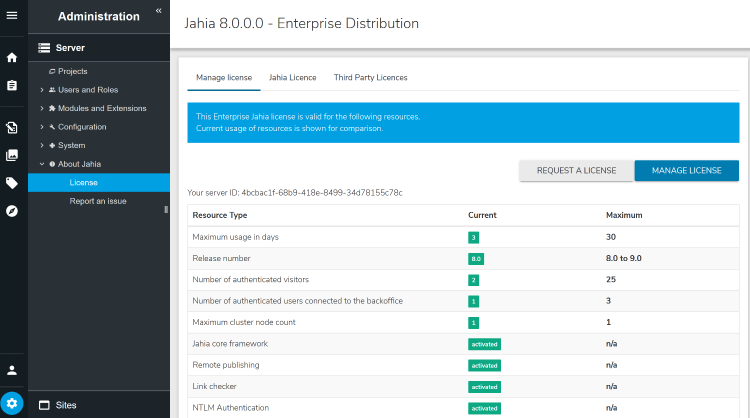 When a current value exceeds the maximum allowed, the license terms are violated and highlighted in red. The content contribution interfaces (jContent and Page Composer) become unaccessible, but sites are still available online. Respecting the terms or uploading a new license file will automatically unblock the content contribution interfaces.
Requesting a new license file
There are two ways of getting a new license file:
Using our online form by clicking on Request a license
The online form allows you to directly receive a free license, coming with some limitations. Users identified as customers in our system can request a development license, granting access to enterprise features.
Through Jahia support
Commercial and Enterprise licenses can be requested through Jahia support
In both cases, you need to provide your server ID which is displayed just above the table.
Updating the license
You can update your license either by uploading it in Administration or by copying it in the file system.
Updating a file in Administration
If you're using the Distributed Sessions module, you'll see a harmless error in the UI after uploading the license. Reloading the page will fix the problem.
To update a file in Adminstration:
Click Manage license.
Upload your new license file. Click Next.
Jahia verifies if the new license file can be used.
At the bottom of the page, click Apply
When running Jahia in cluster:

Click Share license across cluster to apply the current license to the other cluster nodes.
Click OK in the confirmation dialog.
This operation also updates the license present in the file system.
Updating your license from the file system
Alternatively you can replace the digital-factory-config/jahia/license.xml file with your new license (which should be named license.xml).
When updating the license from the file system, a restart of the node is necessary.
You then need to update the license on the other cluster nodes by:
Clicking the Share license across cluster button from the node with the updated license as explained previously. No node restart needed.
Updating the license on the file system of the other cluster nodes. A restart of each cluster node is needed.
About Jahia License
This tab presents the Jahia license terms that were agreed upon installation.
About Third Party Licenses
The Jahia platform uses some third party libraries that require the corresponding license to be available from the product. Such licenses are displayed in this tab.