Managing consent policies
The Consent Manager helps you to create consent types, referred to in the General Data Protection Regulation (GDPR) as processings. Once defined, these consent types can be displayed to the relevant visitors, to ask for their consent as required by the GDPR requires.
Note: jExperience consent and privacy manager cannot be used out of the box to trigger external javascript tags and cookies. It will require customizations if you want to use it this way.
Creating and editing consent types
To access the Consent Manager, in Edit mode, navigate to Site Settings>jExperience>Consent Manager.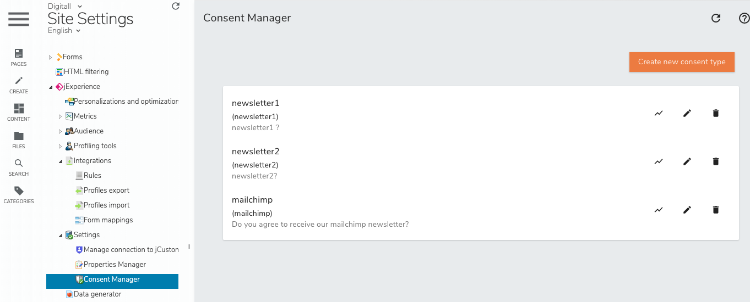 For each consent type, you can:
See statistics
Edit the consent type
Delete the consent type

Asking consents from visitors
Through a popup
If you're an administrator, you need to ensure that the jExperience components module is deployed on the site. Once it is deployed, ensure that the privacy manager is deployed on the page or on the template. If you're not an administrator, ask your IT team to deploy the required module and add it to the wanted page.
Once the module is deployed and running on the site, you'll find the ability to ask consents to visitors through a popup in Jahia Edit mode. When editing a site or a page, in the options, the menu "Consents (GDPR)" will be displayed and it is possible to select the consent(s) that need to be asked to the visitors.

In live mode, when the visitors will see the page (or any page if the consents have been configured at the site level), a popup asking for the consent will be displayed and the visitor will have to decide to consent or not. It is not possible to "postpone" a consent, a decision needs to be made.
Below is an example of how the popup looks like.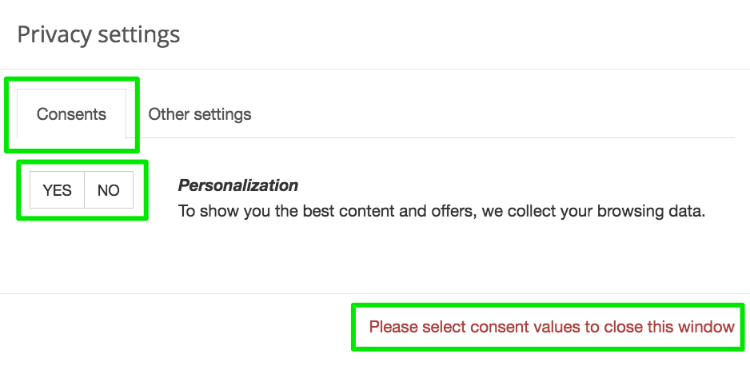 Through forms
As a marketer, you may also ask for the consent of the visitor when he's submitting a form. This feature is not currently available but will soon be added to the jExperience / Forms bridge.
With custom integration
If your organization requires another type of consent collection, your IT can either use our privacy manager as a codebase to build its own implementation or contact Jahia customer solutions.
Consent type statistics
Once your visitors consents, it is possible to see what percentage of them:
Were never asked to consent
Consent to the consent type
Did not consent to the consent type
Please note that you can filter the statistics doughnut to hide one of the value, as per below: