Creating page models
When creating new pages for a site, you may want to reuse an already existing arrangement of lists and content on each page. You can select the Set this page as Page Model option on a page to make the page available as a Page Model for users to choose when creating a new page. The new page will contain all the content from the Page Model. A page model can be used like a refined page-template.
Creating a page model
To use a page model, first create a page with the content that you want to include in the page model. The example below shows a page with 2 columns-template and a content list with one event in the left column as a placeholder and a calendar in the right column. The example also includes a banner in the landing area.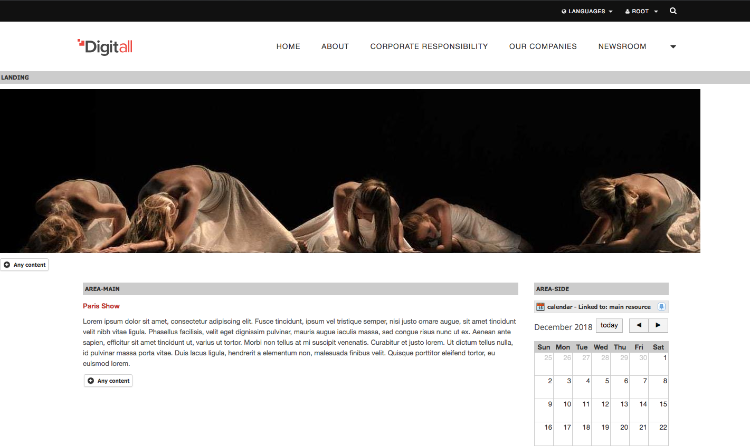 To create a page model:
Open the page in Content Editor by right-clicking the page and selecting Edit.
In Content Editor, select Options>Set this page as Page Model. Enter the following information:
Save your changes.
You can see pages which are marked as page models in jContent>Additonal>Page models.

Note: You can also edit a page model by right-clicking on the page name.
Creating a page from a page model
When you create a new page, page models are available in the Template field.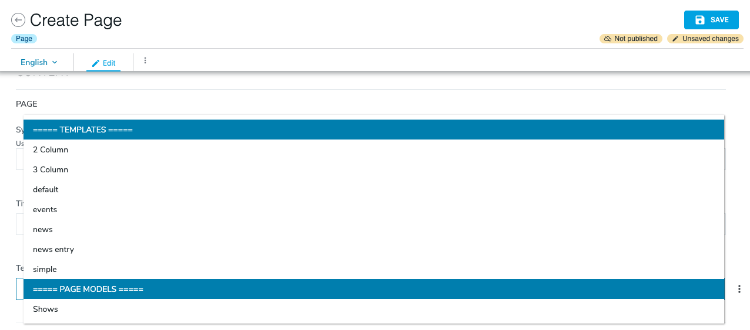 Note: Changes made to the page marked as a page model take effect on the next page creation. Pages already created with the page model before changes are not be affected.
Removing or deleting a page model
To delete a page model, open the page or the page model in Page Composer and clear the Set this page as Page Model option.
Note: Be careful with Delete- Option on Page Models option. If you delete the page model in jContent>Additonal>Page models this will also mark the original page as deleted. When you delete a page which is marked as page model, the page model is not available any more. However, pages you previously created based on the page model are preserved.