About Augmented Search
Augmented Search is a new and improved enterprise extension for Jahia to help you provide your website visitors with a modern search experience. Available with Jahia 7.3.x and Jahia 8, the Augmented Search module replaces the Elastic Search Provider.
Augmented Search benefits
Built on Elasticsearch 7.x, Augmented Search is designed to help you drive more conversions with a first class search experience for your visitors
Instant search
Dynamic faceting (term, range)
Fuzzy matching
Filtering
Sorting
Faster time to market
Elasticsearch relevance is tuned for Jahia out of the box
Sample UI built in React.js, to get you started
Flexible functionality
Support for content and page-based search
Deeply integrated with jContent, Augmented Search isn't just a connector to Elasticsearch, it is deeply integrated with Jahia content management capabilities
Preview
Permissions
Visibility rules
Compatible with your existing content definitions
Scalable
Based on Elasticsearch, Augmented Search can easily scale when your website traffic reaches its peaks
It will also make your Jahia platform more scalable overall, by moving all the search load from Jahia to Elasticsearch
Using Augmented Search
Note: Augmented Search is designed to support visitors to your websites/applications find the content they need, it is not a replacement for internal searches performed by users who are logged into the Jahia application itself. For example, augmented search does not apply to searches in Page Composer or jContent.
The easiest way to implement Augmented Search is by using the Augmented Search UI module, a reference module provided by Jahia. You can customize the module to suit the needs of your site visitors. Once enabled, you can use the Augmented Search component to add search functionality to your site. This section describes the default behavior of the component. Note that augmented search works in both Preview and Live mode.
By default, search results display for site visitors as they type in the Search field. The example below shows search results for module in the Academy.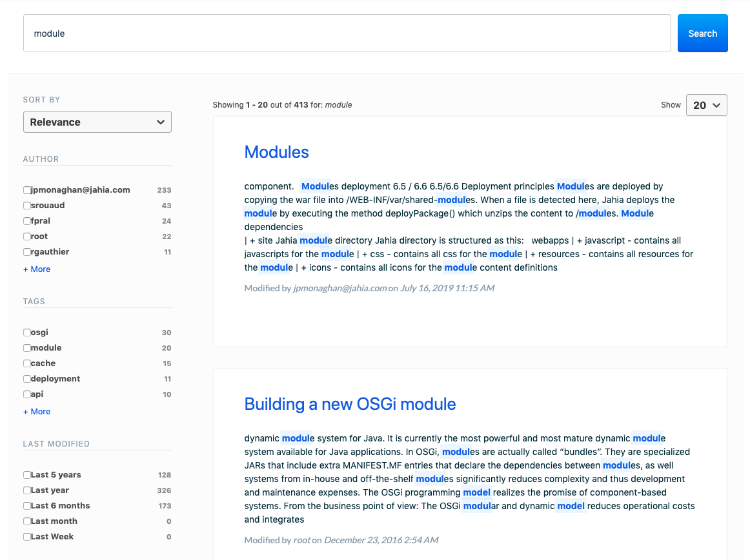 To refine search results, your site visitors can:
Type additional search criteria in the search box.
Use the Sort By list to sort search results by created or last modified date, relevance, and title.

Relevance sorts results by relevance scoring assigned by Elasticsearch.
Title sorts results alphabetically in ascending order by content title.

Select facets that display under the Sort By list. Default facets include content author, tags applied to content, and last modified date.
Select a value in the Show list to change the number of search results that display on the page. Default values are 20, 40, and 60.
Site visitors can also use the first and last arrows and numbers at the bottom of the page to navigate to another page of search results.
Enabling the Augmented Search UI
Before using Augment Search UI, you must install and configure Augmented Search. The Augmented Search UI module must be enabled on your site for you to be able to use it. For more information on enabling the module, see Installing a module tutorial. Once enabled, you will find the Augmented Search component in your component list. For information on how to install, configure, and develop Augmented Search, see the developer section starting with Augmented Search overview and architecture.