Generating reports on your content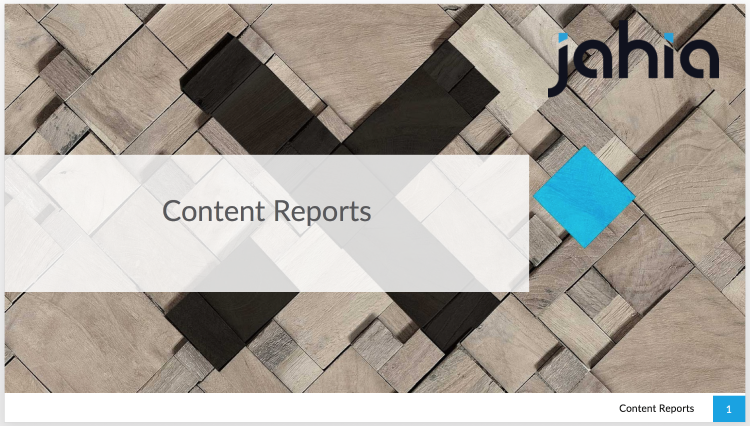 The Content Reports is currently a Community distribution. Please, give us your feedbacks down below that will allow us to build a complete package.
Click on the slide to view in full screen mode,
then use the Left and Right arrow of your keyboard to change the slide.
You can also Download the Presentation
YOU WILL LEARN IN A FEW MINUTES YOU WILL LEARN IN A FEW MINUTES 1 HOW TO INSTALL DX 7 (1/2) 1 HOW TO INSTALL DX 7 (2/2) 2 HOW TO ACCESS YOUR DASHBOARD (1/2) 2 HOW TO ACCESS YOUR DASHBOARD (2/2) 3 HOW TO CREATE A WEB PROJECT (1/3) 3 HOW TO CREATE A WEB PROJECT (2/3) 3 HOW TO CREATE A WEB PROJECT (3/3) 4 HOW TO EDIT CONTENT (1/2) 4 HOW TO EDIT CONTENT (2/2) 5 HOW TO ADD NEW CONTENT (1/2) 5 HOW TO ADD NEW CONTENT (2/2) 6 HOW TO ADD IMAGES AND MULTIMEDIA (1/2) 6 HOW TO ADD IMAGES AND MULTIMEDIA (2/2) 7 HOW TO ADD SOCIAL CONTENT 8 HOW TO PRODUCE MULTILINGUAL CONTENT 9 HOW TO CREATE A NEW PAGE 10 HOW TO PUBLISH CONTENT What Else Can You Do With DX ? Jahia Digital Experience Manager offers advanced industrial features to unleash the power of online convergence : Target multiple channels such as tablets and smartphones Define permissions and roles for editing content or managing multiple sites Optimize referencing with metadata, tags, SEO Re-use content from one website to the other without duplicates Deploy your own modules and apps to all your web sites Use a corporate workflow process to validate content before publishing And many more… THE END! THANKS FOR READING