Enabling publication of large sections and sites
1 Presentation
The Site Settings - Publication module's purpose is to offer an easier way of publishing large sites or sections of site. The current publication interface of the edit and contribute mode is not well suited for such large publications, as it retrieves information of all the contents / nodes to be published, which takes a long time and can result in a session timeout. Furthermore, this level of details is not needed for large publications.
In order to use this module, you need to retrieve it from the Jahia public store, and enable it on the site to be published. A new entry appears in the Site settings, in the left panel of the edit mode: "Site publication".

2 How to use it

2.1 Permissions
User with the following permissions will be able to use this publication panel:
the "Publish" permission on the site and
the "Site admin publication": this new permission is added by default to the Site administrator role
2.2 How to publish a site with this panel?
The Site publication panel looks like: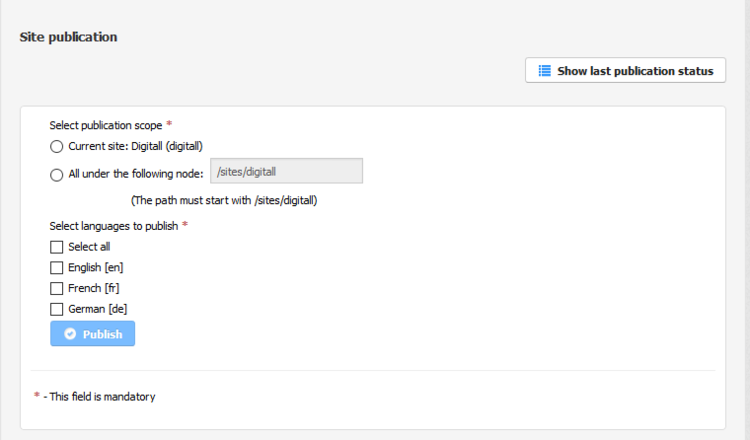 In order to execute a publication, you need to first select the scope of the publication:
Current site: it will publish all the site
All under the following node: you need to type the path of the section you want to publish. Everything under the node will be published.
You need then to select the publication languages. The form displays all the languages enabled on the site. You can select one or several languages.
Once the scope and the languages selected, a confirmation window is displayed: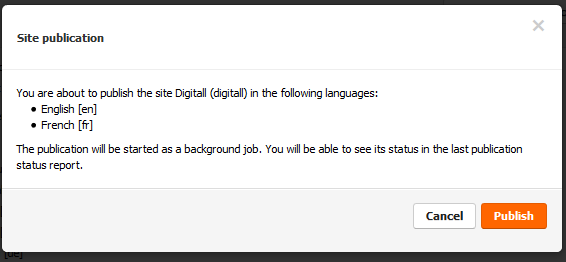 The publication jobs (one per language) will be scheduled once you have clicked on the "Publish" button. Note that only one job can be executed at a time, the other publications being queued. You can see the status of the publications started/executed using the Site publication panel by clicking on the "Show last publication status" button. In our example, the publication in French will start once the publication in English has finished.

2.3 How to know the status of the publications?
You can use the previous screen "Show last publication status" to see the results of the previously started publications:

The table shows information if the publication was not executed:
the contents were already published
an issue happened: in such case, an information message is available when clicking on the "Show details" button: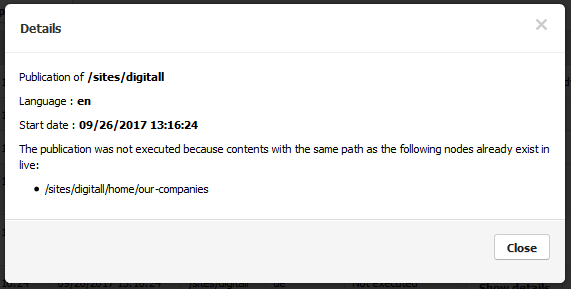 Note that the information displayed here come from the publication jobs themselves.
2.4 Email notification
If the email notifications are set on the server, then the user who started a publication using the Site setting publication module will receive an email notifying him on the status of the publication:
Publication was successful
Nothing to publish
Publication was not executed