Creating page templates
1 Introduction
When creating new pages for a site it is often the case that an already existing arrangement of lists and content objects should be reused on different pages. For this purpose the option "Set this page as Page Model" is available for pages. By checking this option, the page is stored as a Page Model and can be chosen when creating a new page. The new page will contain all the content the Page Model contains and thus a page model can be used like a refined page-template without any need to access the studio.
2 How to create a Page Model
To use the feature create any page with the content objects which should be part of the Page Model. In the example below, we created a page with 2 columns-template and added a content list with one event in the left column as placeholders and a calendar in the right column. We also added a banner to the landing area.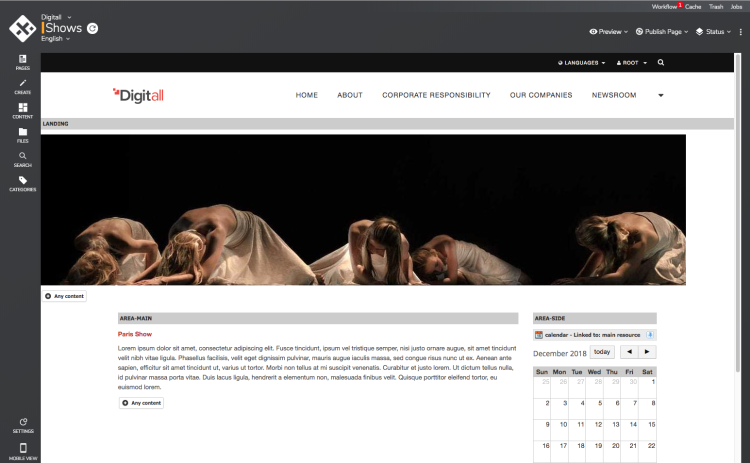 Open the edit engine of the new page.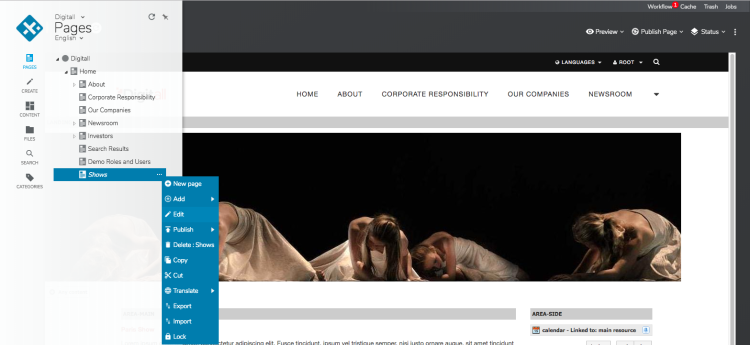 Check the option "Set this page as Page Model". Save your changes.
Field description:
Page Model name: Name which will be shown at the end of the list of templates when you open the dropdown on page creation
Check this to copy all sub pages: when the option is checked, also the subpages are created when you create a new page with the Page Model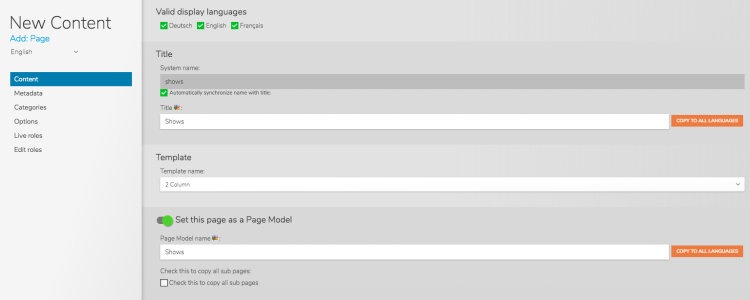 Go to the Site Settings.
All pages which are marked as Page Model are listed in the Site Settings menu under the entry "Page Models":

Note that a Page Model can also be edited from this screen by right-clicking on the page name.
3 Use a Page Model on page creation
When a new page is created, the Page Model is available at the end of the dropdown menu where you can choose the template which should be used for the new page.
Choose your Page Model here and a new copy of your page will be created.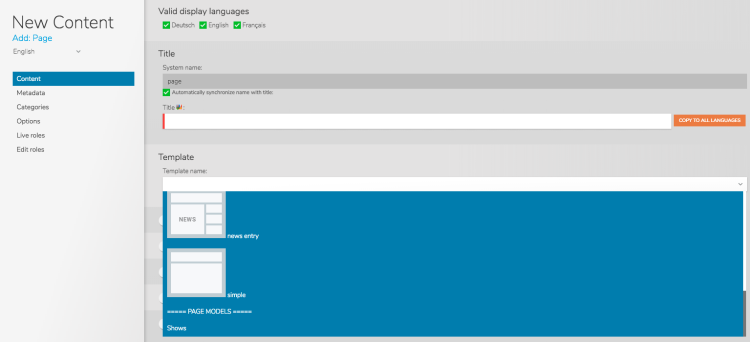 Note that changes you do on the page which is marked as a Page Model will be considered on the next page creation. Pages you already created with the Page Model before doing the changes will not be affected.
4 Remove/delete a Page Model
To delete a Page Model, open the edit engine of the page (or the Page Model) and uncheck the option "Set this page as Page Model".
Note: be careful with "Delete"- Option on Page Models – if you delete the Page Model in the Site Settings menu this will also mark the original page as deleted. When you delete a page, which is marked as Page Model that Page Model is not available any more. However, pages you created before based on this Page Model are still existing.